| | | |
| --- | --- | --- |
| Welcome | | You are not currently logged in. |
A Big Thank You! To Mary Fuenzalida, Kathy Savage, Bev McMail, Daniela Lakey, Tracie Brown, Scott Johnson, Kim Hayes, and Brandon Gregory for staying late and counting ballots for our Grocery Contract Ratification Vote on Tuesday, October 29th, 2013. Read More...
Teamster Union Local No. 38 Grocery Store Members voted by an overwhelming majority, on October 29, 2013, to ratify a new Labor Agreement. Read More...
Teamsters Across Washington Support Local Grocery Store Workers Read More...
Meet Local #38 Front Office Staff!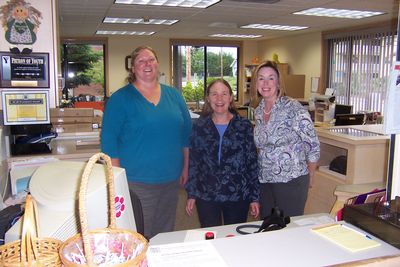 As we work to update our Website, we'd like to take the opportunity to introduce you to our Front Office Staff. Deana, Barb, and Denise field the calls and direct the Members to the their Representatives. Collectively, they run the Dues Office and the Local from the front of the building! Barb Saul is our Office Manager and Bookkeeper and has worked for Local #38 since 2004. In 2012, Barb took over the position Kay Graafstra held for many years. Deana Wengren is our Dispatcher and assists with contracts and Titan Operations. Deana has been in our office since 2008. Denise Olson is the newest employee of our Local. She came to us in July of this year as our Titan Operator. Denise worked for Haggen for 11 years prior to coming to Local #38.
These women will often be the first ones you see and talk with when coming to or calling our Local Union office. We want you, our Members, to feel comfortable when walking in and say "Hi" to Barb, Deana, and Denise.